I have never been to any AdaCamp before this one, just read a lot about it. Thus, I was really excited for my first AdaCamp from almost a month before the commencement of the event. Most importantly, I was responsible to take care of Mozilla's presence at this event. This included helping all the participating Mozillians to get to the city of the event, arrange their accommodation and food and finally make sure that other AdaCampers, who were not aware of Mozilla yet, could also know about this Open Source organization and its different projects.
I met the two AdaCamp organizers, Alex and Suki, for the first time at the reception dinner sponsored by 'Web We Want' on the evening of Friday, 21st November 2014. This was the same place where I also met a lot of other amazing ladies. The most interesting part was, meeting people whom I was already connected with, virtually, but was meeting for the first time.
The next two days were one of the most amazing and learning experiences of my life! This was my first unconference format conference. When I had initially heard about this concept, I was really worried that this might be a very messy process! Not deciding tracks of a conference before hand and deciding them on the day of those sessions, in a very democratic way, involving everyone in the decision making process...really? To my surprise, this was one of the most organized way of making the schedule of a conference, I have ever witnessed. I have been to several meetings where organizers and expert panels would spend hours, deciding, arguing over the structure of an event and its agenda. How we can give participants the power to decide, choose and finalize what they want to both teach and learn from a conference was not only an amazing idea but at AdaCamp Bangalore, it was also an amazingly executed idea!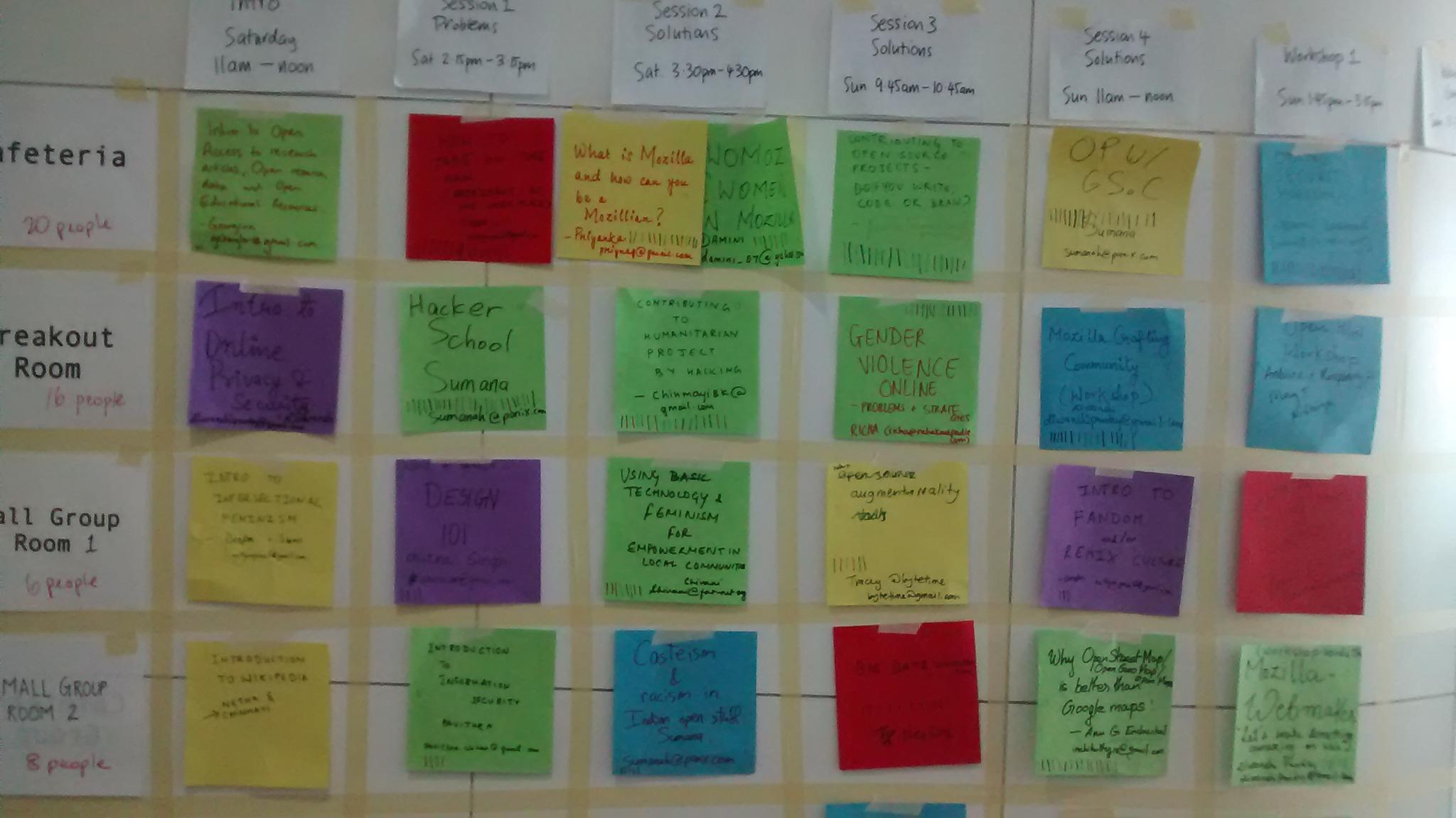 The schedule of AdaCamp Bangalore, decided by participants
Another woooow moment for me at the AdaCamp was Sumana

Harihareswara's session on 'Imposter Syndrome'. I was surprised to see that every woman sitting in that room, attending AdaCamp, agreed at a point that they do suffer from imposter syndrome in some way or the other. The handouts given for this session is something I have preserved to be able to share with my other female colleagues and friends.
Mozilla got to mark a good presence at AdaCamp. All the participating Mozillians, actively proposed several sessions for the two days of the conference and to my surprise, almost all of our sessions got sufficient appreciation and made it to the final schedule. From a generic introduction session to Mozilla and its community to sessions on Firefox OS as well as Webmaker, we did it all. Diwanshi's session on the Art and Craft community of Mozilla was probably the most colorful session of the event where all creative hands got together to create some amazing stuffs.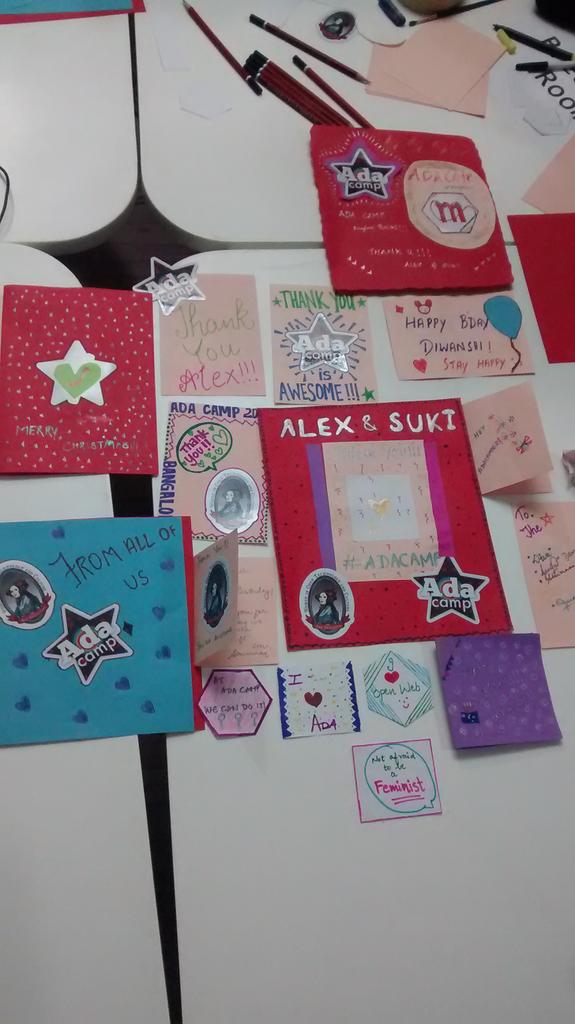 Some of the makes of the Art and Craft session at AdaCamp
At AdaCamp, I also learnt the skill to organize and handle 'Lightening talks' better. There were so many other sessions, workshops, lunch discussions where I have not only learnt a lot of new things, have also found so many like minded people, together in one room.
Among all the great things that this event has taught me, a few which I would definitely like to list down are:
[1] While organizing events, we often don't take care of a lot of things. Since we like our beautiful faces to be clicked and published, we ignore the fact that there might be someone who might not enjoy it the same way. At AdaCamp, they take care of everyone's privacy. You get to choose from three different colored lanyards. Based on your preference on being photographed, you could choose to wear a particular colored lanyard. I totally admired this!
[2] Many of us like to blog, tweet or post about events and learning on different social media platforms, without realizing how much we are supposed to say and where the limit should be drawn to not hamper someone else's privacy. At AdaCamp, we were reminded of these factors. I have never been to another conference where everyone's privacy, their freedom was given such importance.
[3] The compliment wall. We all like to be appreciated and during the AdaCamp, we kept being appreciated for two full days. We had a wall where we had initially pinned up a lot of compliments, which we could think of, and later for the next two days, those compliments got down from the wall and reached the deserving person.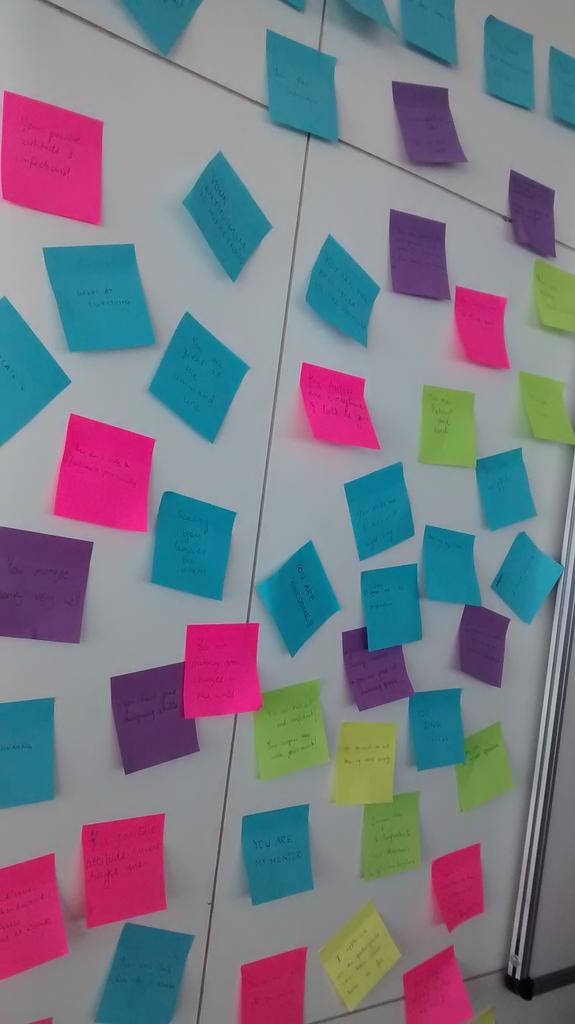 The wall of compliments
I have learnt a lot from AdaCamp and honestly, if I organize events in the future, reflections of those learning will surely show!
The AdaCampers of Bangalore